Authentic art. Personalized prose. Quality paper, professionally printed on demand.
These are the essential ingredients that, when executed flawlessly, attract greeting card shoppers looking to make meaningful connections.
Card Isle checks all of these boxes and more, offering your shoppers high-quality, personalized greeting cards conveniently bundled with their online grocery or gifting orders.
While traditional e-greetings are customizable, they don't offer the tangible "feel" of a paper greeting card. Typical store-bought paper cards aren't customizable and suffer from limited selection and inventory issues. Card Isle solves for all of these, with weighty, pre-creased paper stock, printed on demand, from an "endless aisle" of options. Consumers love the quality and convenience. You'll love the turnkey operation and guaranteed profit.
The recyclable card stock also speaks to consumers' desire to protect raw materials and reduce waste. Card Isle's print-on-demand model means no unsold inventory ends up in the landfill. Our paper supply comes from sustainably managed forests, and envelopes are made of 100% recycled paper.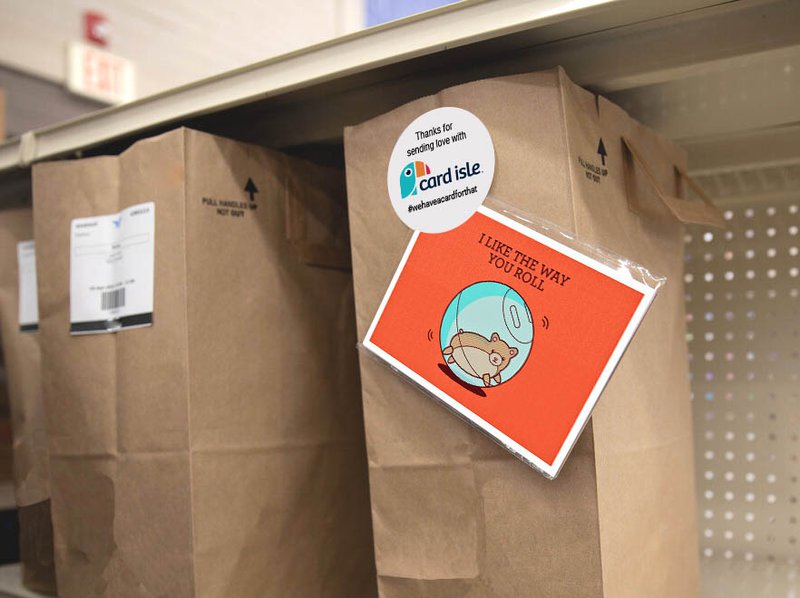 Why It Works: Art Attracts, Verse Sells
In the social expressions business, it's universally accepted that art attracts, and verse sells.
Whether contemporary or traditional, the "art" invites shoppers to find the right look for the occasion or recipient. Then, the "verse," personalized by the sender or chosen from Card Isle's recommended options, seals the purchase decision.
With 25,000+ designs to choose from, your shoppers have an "endless aisle" of options, ensuring just the right card for the situation. Across captions and sentiments, shoppers will find occasion-specific greetings perfect for birthdays, new babies and weddings and every type of life event in between.
Non-occasion thank you, get well, congratulations, thinking of you and sympathy cards are perfect complements to flowers, fruit baskets and other giftware. Blank and photo card options offer the ultimate customization. Card Isle has you covered with greeting cards for giftable occasions and major and minor holidays, too.
From traditional to contemporary, verse options range from blank - allowing consumers to add their personal greeting - to rhymed prose and simple direct sentiments. Emojis, ASCII keyboard characters and more let customizable cards "speak" in the sender's language. Not sure what to write? Card Isle provides verse options to choose from.
Meet the Artists!
Card Isle contracts with more than 400 artists across the U.S. and the world, bringing cultural and regional nuances and holidays options to the mix. Spanish, Hebrew, French and Muslim-fluent artists expand the offering for diverse audiences. This history and experience add a wealth of content to Card Isle's offering.
Why It Matters
While grocery ecommerce continues to grow – up by 50 percent and growing - profitability has not followed suit. General merchandise (GM), in particular – including greeting cards, snacks, magazines and kitchenware – doesn't make it into the online cart at the same rate as groceries, dragging down overall profitability.
In fact, basket profitability typically is smaller with pickup orders than in-store shopping, which offers visual prompts as reminders for impulse purchases. 
And with GM carrying the highest profit margins in the store, grocery retailers are leaving potential profits in the cart.
Problem solved. Card Isle's business model combines the best of innovation, exclusivity and quality with the convenience of online ordering – a win-win for your shoppers and your business.
Want to Know More?
Interested in learning more about Card Isle's all-in-one solution?Schedule a demo to learn how our custom card software can integrate with your e-commerce platform and start boosting your e-commerce profitability.
Author Barbara Rook - September 2022